Corinne Cosseron, founder of The International School of Laughter, the first school of laughter in the world (2002) to teach the techniques of laughter and joyful living not only to health care and social workers as well as people working in education and businesses, but also to the public at large.

Corinne Cosseron is the creator of Rigology®, Laughter, Games and Happiness Clubs, Laughter Cures® and Happiness Cures®.

She has already trained
more than 2,000 happy people in over 15 countries.

Author of many best sellers on laughter, Corinne Cosseron is also recognized by her peers: Dr Madan Kataria appointed her Laughter Ambassador, Steve Wilson has granted her with two Laughter Tour Awards and Roland Schutzbach has certified her member of the Coalition of Joy.

Ricardo Lopez, founder of Playfull Sophrology®, says about her:
"Corinne doesn't make you laugh–she is laughter!"
CORINNE COSSERON

Corinne Cosseron is the founder of Rigology®, laughter, game and happiness clubs and cures as well as the International School of Laughter, the first school of laughter in the world.
Following a severe depression, 10 years of psychoanalysis and higher education studies in psychology, she decisively chooses the joyful living path and studies the different laughter technics around the world with their founders:


• Laughter yoga (Leader, Teacher and Ambassador certified by Dr. Madan Kataria, India)
• Playful sophrology® (Claudia Sanchez and Ricardo Lopez, Colombia)
• Laughter coaching (Annette Goodheart, USA)
• Therapeutic humor and laughter in the medical and business world (Steve Wilson, USA)
• Laughter and health (France Mondor, France)
• Clown (hospital: Kinou the Clown; therapeutic: Artec; theater: Bataclown; personal development: ArtClown, coach: Karaclown, France and Switzerland)
• Tao Game - Health & Wellness (Patrice Levallois and Anne-Marie Filliozat, certified Tao-leader, Taovillage, France)
• Grammar of the emotions (Isabelle Filliozat, Ecole des intelligences relationnelle et émotionnelle, France)
• Positive Psychology (Prof. Tal Ben Shahar, University of Pennsylvania, USA)
• Mindfulness Meditation (MBSR Method, Dr. Jon Kabat-Zinn, USA)
• Learn, Laugh, Love (Healing with love, Dr. Leonard Laskow, USA)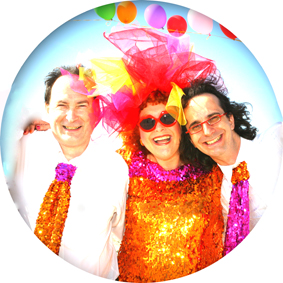 Rigology® emerges out of these encounters along with personal additional practices (African dance, singing, qi gong, Feldenkrais Method, meditation, positive psychology, etc.) and allows for the training of healthcare professionals and philanthropic organizations in the use of all the joyful living technics, in which the primary goal is to help to better live autonomously with one's emotions.
She also offers playful short-term training for the public at large, "Humans Beings − Directions For Use", as well as one of a kind vacations, "Laughter and Happiness Cures", to learn to live well with greater lightness and joyfulness with oneself and others.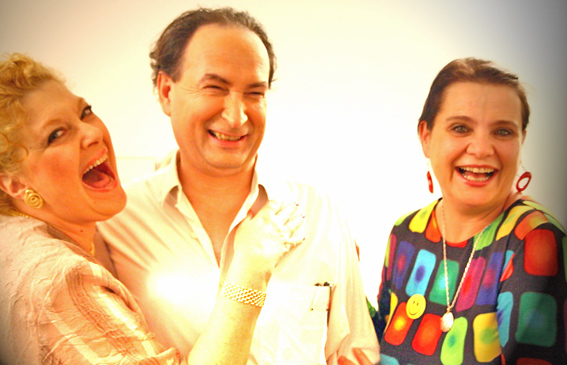 She is also the author of many works of reference on therapeutic laughter:
Remettre du rire dans sa vie, la rigologie mode d'emploi, Robert Laffont, Mai 2009
Cahier d'exercices pour rire davantage, avec Frédéric Cosseron, ESF, Mai 2010
Rire une formidable thérapie, avec le Dr Christian Tal Schaller et Kinou le Clown, Lanore, Septembre 2010
Le yoga du rire, avec Linda Leclerc, Préface du Dr Madan Kataria, Guy Trédaniel, Mai 2011
Recognized by her peers, Corinne Cosseron was handed two World Laughter Tour Awards by the American psychologist Steve Wilson (USA, 2002 and 2004). She was also appointed Laughter Ambassador (Germany, 2006) by Dr. Madan Kataria, Indian founder of laughter clubs, and was invited to join The Coalition of Joy by its founder, Swiss German philosopher, Roland Schutzbach (Swiss, 2010).
| | | | |
| --- | --- | --- | --- |
| | | | |
| Corinne Cosseron & Martine Medjber | Corinne & Frédéric Cosseron | | Julien Peschot & Corinne Cosseron |
Corinne Cosseron in numbers is :

½ century of laughs

10 years of school of laughter

10 training programs related to laughter and happiness

15 countries practicing Rigology®

20,000 contaminated laughter lovers

2,000 hosts

200 Rigologists

20 Expert Rigologists

10 International Meetings of Laughter

10 Zygomatic Gatherings: symposiums on laughter

10 World Laughter Days

15 Greatest Bursts of Laughter (Plus Grands Eclats de Rire)

12 Golden Laughter Awards bestowed worldwide

4 international rewards received

1,500 news articles and television broadcasts

25 works quoting her practice

4 reference books on laughter

And thousands of contagious bursts of laughs!
THE TEAM :
The International School of Laughter was founded in 2002 by Corinne Cosseron with the participation of Frédéric Cosseron.
Since 2006,

Julien Peschot

has been the assistant.
Since 2010, Dominique Soler has been the administrative manager.
Since 2011, Pierre Fayet has been the business relationship manager.
The training programs in laughter yoga are managed by Corinne Cosseron, Julien Peschot et Martine Medjber-Leignel , all three Expert Rigologists and teachers of Rigology accredited as Laughter Yoga Teachers by Dr. Madan Kataria.
Training for Game Clubs are managed by their instigator, Julien Peschot.
Rigology is taught by a dozen teachers (listed here) under the supervision of Corinne Cosseron.
| | | |
| --- | --- | --- |
| | | |
| Sébastien Perret | Corinne Cosseron - Julien Peschot | Frédéric Cosseron |
| | | |
| Martine Medjber | Claudia Sanchez - Ricardo Lopez | Dr Sylvie Deshons |

Links in French :
- Le Club de Rire et de Bonheur de Frontignan hosted by Corinne Cosseron for the past ten years
- Corinne Cosseron : www.corinnecosseron.org
- Frédéric Cosseron : www.frederic-cosseron.com
- The rigology : www.rigologie.org
- Rigology® teachers: www.ecolederire.org/rigologie-formateurs.html
- The International School of Laughter as seen by Dr Madan Kataria
- Quotations de Corinne Cosseron
- Works by and about Corinne Cosseron, Rigology and the School of Laughter
- Discover rigology in 3mn sur Tele Matin from France 2
- Video classes in rigology on Weelearn
- Radio interview to listen on Newzitiv
- Interview in Courrier Cadres on June 2011 : "Cultivez la bonne humeur au travail"

© Michel Pyere