The first school of laughter in the world, combining all laughter and joyful living techniques in an effort to bring well-being into daily life, was founded in 2002 by Corinne Cosseron, Laughter Ambassador, certified laughter yoga teacher, founding member of the International Positive Psychology Association and founder of Rigology®.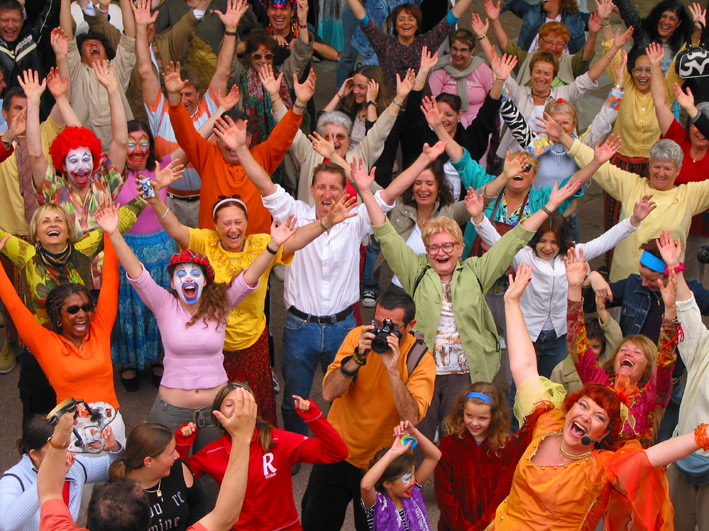 Thanks to the initiative of a Mumbai doctor, Laughter Yoga Clubs are proliferating on the five continents –meanwhile Corinne Cosseron ventures around the world exploring the techniques that stimulate joyful living. Have the Indians been the only ones interested in using laughter to improve health and in creating a type of yoga dedicated to this?

Corinne discovered that ever since ancient times Greek doctors prescribed 15 minutes of laughter per day to maintain good health. This was confirmed by cardiologists at a 2005 conference in the USA!

She thus learns of Playful Sophrology®, a technique developed in Bogota (Colombia) using Indian cooperative games, clowning techniques especially of the hospital/care type, various humor exercises from different countries, games for all ages, playful exercises associating dance, rhythms, sounds, singing, touch, massages, hugs, etc.

From all corners of the world, unlimited imagination for celebrating provides a catharsis to help us digest events that are somewhat painful and which we all must sometime face. All People recognize the universal therapeutic power of laughter, smiling and positive feelings in general.

On account of these findings, a toolbox combining many different techniques from all over the world has been developed in order to offer, to the grumpy westerners we have become, an array of efficient, quick, playful and funny tools intended to bring back laughter and joyful living wherever it has disappeared −that is everywhere!

Thus is born Rigology®, offering to all and more specifically to health care professionals, social workers, people working in education and businesses, the techniques which benefits are now scientifically proven.


RIGOLOGY®
Rigology® is now taught in the USA, Canada, Brazil and throughout Europe.
The International School of Laughter is comprised of a dozen teachers respecting a rigorous ethical charter. It trains hosts for laughter, games and happiness clubs, but also Rigologists® −true professionals of therapeutic laughter working in the socio-educational environments, businesses (events, conferences, seminars, team building), hospitals and retirement homes as well as with patient groups.


GOLDEN

LAUGHTER

AWARDS®
Each year, the International School of Laughter presents a Golden Laughter Award to a personality who has promoted the positive effects of laughter on health:
Dr Henri Rubinstein, Psychosomatic of Laughter (France - 2003);
Dr Madan Kataria, Laughter Yoga (India - 2004);
Claudia Sanchez and Ricardo Lopez, Playful Sophrology® (Colombia - 2005);
Kinou the Clown, A Clown at the Hospital (France - 2006);
Steve Wilson, Humor to Work at Work (United States - 2007);
Jean-Michel Ribes, Laughter of Resistance (France - 2008);
Dr Christian Tal Schaller, Laughter−A Wonderful Therapy (Switzerland - 2009);
Lionel Ketchian, Happiness Clubs (United States - 2009);
Roland Schutzbach, The Coalition of Joy (Switzerland - 2010),
Marc Jolivet, Laugh for the Planet (France - 2011),
Lach Academy, Danses to laugh (Belgium - 2011),
Zygocentre, World Museum of laughter and humor (Belgium, 2011)
David Ken, LOL Project ( France - 2012).

INTERNATIONAL DEMONSTRATIONS OF VOLUNTEERS TO PROMOTE THE POSITIVE EFFECTS OF LAUGHTER ON HEALTH
The International School of Laughter, a non-profit organization, voluntarily coordinates each year: