First school of laughter in the world to teach the tools of therapeutic laughter to professionnals
founded in France in 2002 by Corinne Cosseron
RIGOLOGY® and RIGOLOGIST®
come from the French word "RIGOLO", that means "funny" or "amusing" in child talk.
« RIGOLOGY® » means « the science of laughter and joie de vivre»
« RIGOLOGIST® » is « the professional expert in laughter ».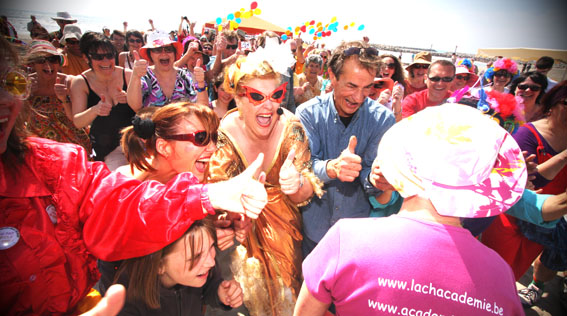 OUVERTURE AUX ANTILLES DE




Guadeloupe - 14 Décembre 2013
Martinique - 20 Décembre 2013

Corinne Cosseron et la rigologue Marie-Ange Pigeon
inaugurent les Clubs de Yoga du Rire, Clubs de Bonheur, Clubs de Jeux et Ateliers de rigologie
à travers les Antilles durant deux jours de festivités!
Le programme détaillé de ces deux journées vous sera prochainement communiqué.
Conférences sur le yoga du rire, la psychologie positive et la rigologie,
séances de yoga du rire,
jeux coopératifs,
méditation du rire,
et séances de développement du bonheur
se dérouleront tout au long de ces deux journées exceptionnelles.
| | | |
| --- | --- | --- |
| | | |
| | | |
Ecoutez le rire cristalin de Marie-Ange Pigeon,
votre rigologue aux Antilles,
au début de sa formation en ligne d'Animatrice de Club de Bonheur
avant de venir suivre la formation intensive de cinq stages à Frontignan.
NEWS
CLL Receives international laughter honor in France
Posted by: "Steve Wilson" Tue May 15, 2012 8:35 am (PDT)

May 6, 2012, at Frontignan, France

World Laughter Day and Rire D'or en Vive la France!

Katy Franco, CLL, received the 2012 award, Rire D'Or (Golden Laughter) for her work with laughter and improving people's health and well being.

The International School of Laughter gives this honor annually for extraordinary achievement in the use of laughter for physical and emotional well-being. Franco was selected this year because she has combined stand-up comedy, laughter therapy, and mime performances of CHEMORELLA, to entertain, to give hope to cancer patients and their families, and to emphasize the importance of early treatment of breast cancer.

Franco spoke about Humor and Cancer at the International School of Laughter in France and presented a theatrical version of the story of Chemorella written by her husband, Ken Phillips, and herself. The audience, a mixture of scholars and professionals in the field of laughter, social work, medicine and Rigology, laughed and cried and gave Franco a standing ovation for her conference and presentation. The week ended with the World Laughter Day celebration at the beach beautifully decorated with balloons and very bright colors displayed everywhere.

The ceremony was hosted by Corine Cosseron, who founded the school with her husband, Fred. Colorful, joyous and rollicking fun, the presentation at the beach drew over 100 spectators including dozens of laughter scholars from around the world. The International School of Laughter is a leading institution in the art and science of "rigology," the practice of evoking laughter to benefit people without jokes or traditional comedic methods. The word "rigology" comes from the French word for "amusement," and is Cosseron's term for this serious study of laughter therapy.

WE ARE SO PROUD OF KATY!

Steve

PS Plans are already in the works for a 5-day course in Rigology, to be taught during the summer of 2013, by Corine and Fred, in Columbus, Ohio.
EXCEPTIONAL! Corinne Cosseron in USA for a one of a kind training!!
USA : OHIO - Columbus - August
Professional Training Certification in

For the first time in USA, The International School of Laughter is offering a Professional Training Certification using laughter therapy. Not only for health care and social workers, people working in education and businesses, but also for the public at large.
Please click here to know more
Professional Training for
RIGOLOGIST® certified by
The International School of Laughter

Columbus - Ohio - USA
5 intensive days
Monday to Friday, August
Corinne & Fred Cosseron - World Laughter Day in Paris - France
Rigology™1

Columbus
OHIO

August
9h AM-4h30 PM

12 places

Professional Training Certification

Hosted by
Corinne Cosseron,
founder of
The International School of Laughter
assisted by
Frédéric Cosseron


These five extraordinary condensed and intensive days allow you to delve into the heart of your emotions using the joyful living path!

Intended not only for health care and social workers and people working in education and businesses, but also for the public at large. This training will allow you to adapt your laughter sessions to different audiences.

In addition to laughter yoga you will discover playfull sophrology®, cooperative games, development of sense of humor and happiness, emotional education, positive psychology, love therapy, initiation to clowning, conception of happenings and free hugs revisited to be a laugher!

According to trainees, there is a "before" and "after" to this training that connects you with the best of yourself for life!

For those who wish to, this first module can be completed in France by following the entire Expert Rigologist® Training.

Program
of the 5 days workshop

*

Rigology

: What it is & how it is used.

*

Laughter sessions

: Applications (seniors, children, illness and companies)

*

Emotional Education

: The role of joy in the full range of all of our other emotions

*

Play, danses and rythmes

: non competitive games, playful sophrology from South America and danses to laugh from Europe.

*

Initiation to "clown"

: discovering the clown to express our emotions

*

Taking it to the streets

: "Laughter and Free hugs"
Organisation with Steve Wilson's
World Laughter Tour

AUGUST 15-19, Monday/Friday, Columbus, OH

Spectacular week-long intensive workshop opportunity to enhance expertise & savoire faire for previously trained laughter leaders (CLL or CLYL), presented by Corinne Cosseron, President of the International School of Laughter (France) includes European therapeutic laughter techniques not previously taught in the United States. Very limited class size. Special pricing. Call for details.


Corinne Cosseron offers the Golden Laughter Award to Steve Wilson
Columbus- Ohio - USA - 2009

REPORT FROM 5-DAY COURSE IN RIGOLOGY FROM
THE INTERNATIONAL SCHOOL OF LAUGHTER

(AUGUST)

A unique and very special workshop in Rigology was organized by Steve and Pam Wilson and the World Laughter Tour, Inc. (WLT) and taught by Corinne and Fred Cosseron, founders of the International School of Laughter (ISL). It was conducted recently for the first time ever in the United States at Columbus, Ohio. Twelve professionals earned the title of Rigologist. Rigology®, from the French word "rigolo" meaning "amusing" in child talk, is the science of laughter and joie de vivre! A Rigologist® is a professional expert in laughter.

"I am impressed by the parallel developments in the ISL (France) and the WLT (USA) certification in therapeutic laughter," Wilson said. "Our methods overlap in some areas, diverge in others, and are very complementary," he said. "It is surely a sign of the times and, of course, great minds thinking alike!" Both methods teach techniques of laughter and joyful living to health care and social workers as well as people working in education and businesses, and also to the public at large.

"Working collaboratively," said Wilson, "brings the world closer together. Laughter is universal. Studying it together connects us all with greater tolerance and better understanding of the human condition."

Corinne Cosseron and Steve Wilson venture around the world exploring the techniques that stimulate joyful living.

The International School of Laughter course included highlights of Playful Sophrology®, a technique developed in Bogota, (Colombia) using Indian cooperative games, clowning techniques especially oriented

toward hospital care, various humor exercises from different countries, games for all ages, playful exercises associating dance, rhythms, sounds, singing, touch, massages, hugs, and more. Participants engaged in guided imagery to find their "inner smile", laughter meditation to clear the mind, and street clowning (not the circus type) to give away laughter and free hugs.

"From all corners of the world, unlimited imagination for celebrating provides a catharsis to help us digest events that are somewhat painful and which we all must sometime face," Corinne Cosseron explained. "All People recognize the universal therapeutic power of laughter, smiling, and positive feelings in general."

Based on a synthesis of these findings, the course offered a toolbox combining many different techniques from all over the world. ISL co-founder Fred Cosseron said, "The goal is to offer to the grumpy westerners we have become, an array of efficient, quick, playful and funny tools intended to bring back laughter and joyful living wherever it has disappeared − that is, everywhere!"

Now there are 2 dozen "Rigologists"® in North America offering to all, and more specifically to health care professionals, social workers, and people working in education and businesses, the techniques whose benefits are now scientifically proven. Plans are in the works to repeat the USA course in 2012.

What Madan Kataria says
about Corinne Cosseron on
Official Website of Dr Kataria
Laughter Yoga International


Corinne Cosseron & Madan and Madhuri Kataria - Mallorca - Spain - 2005

Announced by Sebastien Gendry from the
American School
of Laughter Yoga


Corinne Cosseron, Madan Kataria & Sebastien Gendry - Paris - France - 2006

Announced by Jeffrey Briar from
The Laughter Yoga Institute


Jeffrey Briar and Corinne Cosseron - Paris - France - World Laughter Day 2007

The International School
of Laughter in Le Monde

(a French highly influential daily paper, the equivalent of the New York Times)

Please click here to read the translation in English

Please note :

This professional training is different than and supplementary to the laughter yoga training introduced by Dr Madan Kataria and performed in Laughter Clubs.

Notice !
A two-days laughter yoga prerequisite is strongly advised as well as having hosted or at least participated in several laughter yoga sessions.
We invite you to contact The World Laughter Tour of Steve Wilson to acquire this training.
Exceptionally, if you wish to, you can attend this training following the 5 days of Rigology®.
Please, click here to know more about The Internatioinal Scool of Laughter.